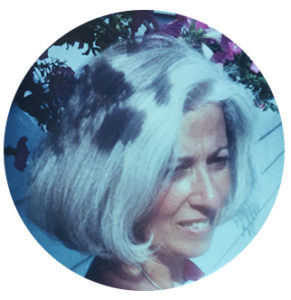 Clara Rose B. MSc. H.C. is a well-known international teacher, lecturer, spiritual counsel and metaphysical practitioner. She has worked in the fields of communications, metaphysics and human relations, for more than 25 years. In 1988, she founded a holistic centre for personal growth and healing, which addresses the needs of the integrated MIND-BODY-SPIRIT. This centre, known as Trinity Star, is located in Vancouver, BC, Canada.
Clara Rose has travelled across Canada and in the USA. She has written and published many articles about her ideas and methodology. In the media, she has appeared as a guest on many radio & television shows, and many newspaper articles have also been written about her and her practice.
Clara Rose has formulated unique methods to treat the entire individual. A specialized mind-body-spirit approach which utilizes her diverse gifts, her wealth of resources, and abilities plus an abundance of knowledge and experience to draw from to teach, coach and offer counsel for her clients in a safe and comfortable environment. She offers Canduchi to help individuals and corporate clients the power to correct issues of Body-Mind-Spirit, including mental and emotional states of being. This promotes overall wellness, alertness, enjoyment and relaxation.
In her courses and private sessions, she assists others to trust themselves and become open to their own intuitive nature, to love themselves, to touch and experience the miracle that they really are. Clara Rose has the ability "zero in" on problems or situations at hand, while her training and experience permit formulation of individualized treatments or solutions.
Clara Rose teaches others, HOW TO BE MORE HUMAN, by personal example. She confidently and proudly professes, "We are spiritual beings on a human journey". "There is a solution to every problem and everything is possible – as long as you trust in it and believe it". "Only then, it is so". Her latest passion is a new method of assisting people by a specially formulated combination of therapies which she calls "The Canduchi Method".
Her exuberance and presence strengthen others to help themselves, to become leaders of themselves and masters of living. This gives Clara Rose the greatest satisfaction that life can afford, true success.
Accreditations:
Certified Independent Contracted Instructor & Consultant in the field of Human Relations,
Personal Empowerment and Leadership – The American Leadership College. Washington D.C., & Calgary, Alberta, 1975 -1988.
Certificate of Healing and Counsel – Adamis International, Phoenix Arizona. 1990 – 1995.
Bachelors of Metaphysical Science – University of Metaphysics, Studio City, California. 1993 – 1998.
Usui Certified Reiki Practitioner & Master / Teacher 1990 – 2001.
Metaphysical Practitioners Diploma – 1993 – 2001