Holistic Ear Candling – Vancouver, BC.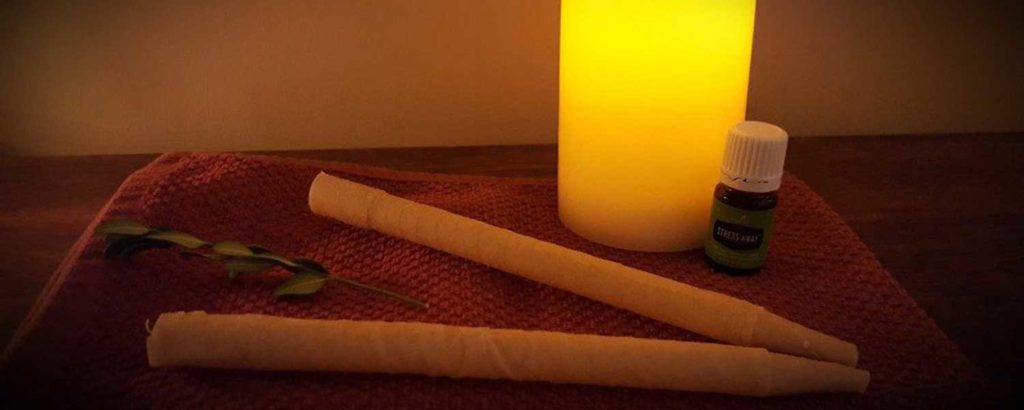 Also known as EAR CANDLING, this highly successful and proven technique aids in sinus problems, sore-throats, earaches, swimmer's ear, chronic headaches, equilibrium problems, pressure discomfort (eg. plane travel), allergies, hearing difficulties and removal of excessive ear wax.
It's simple and effective! Absolutely no discomfort whatsoever!
BENEFITS
Soothing and relaxing.
Stimulates energy points in the ears.
Relief of ear and sinus irritations, fuzzing and other noises.
Local activation of the lymph and the metabolic process
Gentle elimination of earwax build-up.
HOW IT WORKS
Heat and low pressure work together. Through the vacuum created, blood circulation is stimulated and the lymph circulation activates the cleansing of the system. The acupuncture points and reflex zones get revitalized with new energy. The burning beeswax candle creates alow pressure.
A regulation of sinus pressure is immediately noticeable. Earwax deposits and impurities are sucked up by the chimney effect of the candle as well as the heat from the wick. These impurities end up condensed in the unburned part of the candle.
The process originated many centuries ago and was practiced by the ancient Egyptians. A special hollow candle is formed from natural beeswax. One end is gently placed in the ear and the other end is lit. The wick burns with a low flame and VERY SLOWLY. While doing so, it creates a vacuum that pulls out old ear wax and other toxins.
NATURAL EAR CANDLING/CONING TREATMENT SESSION
Ear Coning treatments are $100 (both ears) – a normal full treatment takes 60 to 90 minutes for both ears and use 3 cones per ear (at your first visit evaluation is performed by our practitioner who will suggest the course of treatments that are best suited for you).
Note:  If a client has problems with their ears Trinity Star recommends consulting with a doctor, ear candling is not a medical procedure.

Book an Ear Candling Appointment
LOCATIONS:
Kerrisdale, Vancouver, BC
Maple & W. 41st.Vancouver, BC. – Monday to Friday.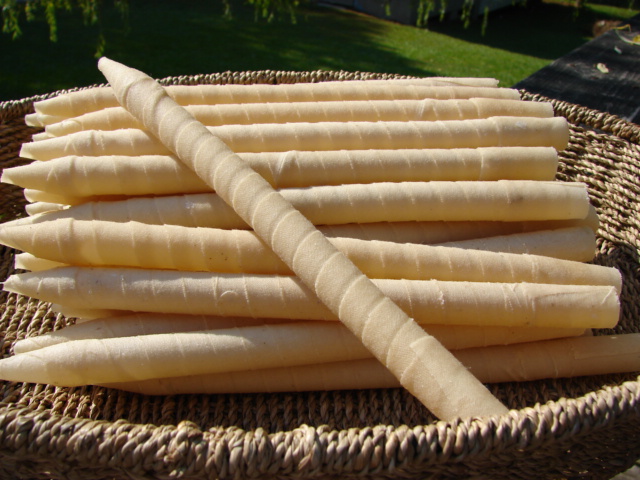 Testimonials
Just a short note to say thank you….since Nicole's course with you Nicole used 4 candles on both my ears and on the third cleaning we found a large (l inch ) plug in the cone from my left ear. It is noteworthy to mention that I have seen two specialists this past 2 months for my hearing loss in my left ear which was first discovered 5 years ago. These two specialists were proposing surgical procedures to repair my left ear. Last night after Nicole removed the large plug from my left ear I fully recovered my hearing. I am truly convinced in the value of ear coning and appreciate all that you have done! Thank you again….~ Ed and Nicole – Ottawa, Ontario.
Just a little note to let you know how much better I feel since you did the Ear Candling for me while I was in Vancouver in July. I don't suffer from excess of ear wax, but I did have problem with dizziness. I blamed it on my high blood pressure and had to quit Yoga class for I would get very dizzy whenever I bent down or made a quick move. Also got very dizzy if I moved my head too fast while I was asleep. Any quick movement to my head had the same negative impact on me. Thanks to you Doris, since you patiently did the 3 cones in each ear this problem has disappeared completely. Hopefully I will stay dizzy free. Thank you ever so much ~ Evelyn Norman Hamilton, Ontario.
Thank you for explaining how you perform ear candling and the benefits I could expect. Sharing your knowledge and experience with me put me at ease and excited to get the treatment done. Having the ear candling done by you was so relaxing and soothing. Since the treatments my hearing and sharpening of smell have improved. I have also noticed that I speak more clearly without sounding nasally. ~ L. O'Grady (North Vancouver, BC)
I'm just back in Ottawa and wanted to drop you a quick note to let you know how things worked out.

Tuesday, the morning after you candled my ears, and immediately following my shower, my right ear popped. This was a tremendous relief or me. Thank you ever so much for your kindness and for your healing help.

The next morning, Wednesday, I awoke to my right ear being closed. However, once again, following my shower, it opened and this time a medium-sized piece of older wax came out. Ever since then my ears have been clear. Both my ears feel more sensitive than usual, feeling wind and perhaps muscular sensations that I am not normally acquainted with. I am not alarmed by this and attribute it to the combined effects of 40 Q-tips and the candling process. As well, I suspect that my ears have never been cleaner since I was a child. Thanks, Tom Ottawa
Book an Ear Candling Appointment